Eric Mischke, Founder LineUpr
You should be empowered to do your event communication yourself. That's the approach of LineUpr. Eric is its founder and Head of Business Development. In 2017 he graduated in Economics at the TU Dresden, organized events parallel to his studies and then started to develop LineUpr together with his partners Dr Philipp Katz and Norbert Sroke. Instead of having to print program books and throw them away again, he has always relied on digitalization and event information on the device that everyone has in their pocket anyway: the smartphone.
---
gigmit: What is event communication and what do I need it for?
Eric Mischke: No matter how great your event is, if nobody knows about it, nobody will come. So you have to talk about your event! There are different phases and different levels of event communication: Before the event, it's primarily about attracting visitors and making them want to come. During the event, visitors may need information that is important for the complete event experience. After the event, promoters often want to collect feedback or leads for future events. In addition, communication after the event can be used to extend the event experience. This is event communication – for me one of the decisive factors whether the event will be a success or not.
Is there a golden rule of success?
You can reach someone by posters or flyers. Others are addressed by advertisements in print and digital magazines. And the third party only wants to be contacted online. There is not one and only strategy. We are all people and each of us is individual. Therefore it is important to understand exactly who your target group is and how you can reach them best. The type of information is also important: Some things can be communicated well via local notices. Perhaps more important things should come directly from the stage. The topic is much more complex than you might think at first glance.
Where did the idea for LineUpr come from?
A few years ago our co-founder Norbert stood in the Neustadt, Dresden's cultural district, in front of a poster for a small music festival. It seemed interesting, but he didn't know many of the artists. What do you do then? You take your smartphone and search…
This led to the idea of scanning posters or flyers to get all relevant event information like line-up, running order, location, etc. A digital solution directly on your smartphone. A simple event app was the perfect first step in this direction. At the end, the participant should also be able to buy a ticket directly.
With LineUpr every promoter can build his own app. Sounds absolutely plausible. But I can imagine that business events and conferences, in particular, have recognized the value of an event app so far. Who are your customers from the live music sector?
That's right. 99 % of our customers come from the business sector. But there are also some live music pearls. For example the SPEKTRUM Musikfestival from Hamburg or various city festivals. This year we were the digital program booklet at Münster Mittendrin and at Bunte Republik Neustadt. We are also used for many cultural events such as film festivals. In Dresden, we have been working together with the Medienkulturfestival since 2015. We sponsor many of these cultural events with an event app.
What makes a good event app? What is possible and necessary today?
This depends very much on the needs of the organizers and its target group. An event app is not an end-in-itself! It must take participants by the hand but not distract them. Some features are more suitable than others.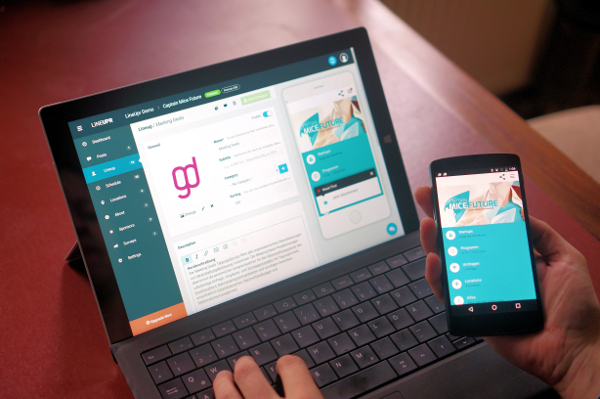 For example, we have not offered a chat function between the participants for a very long time at LineUpr, because it simply did not work at many events. Promoters imagined this to be romanticized. Ultimately, however, the participants decide what they want to use. Now we have implemented this feature because we have more and more customers, who are organizing customer and employee events with us. Here, many participants would like to exchange information about the event or arrange meetings in advance. So the app is the perfect solution instead of using email or other services.
Another example is the social media walls, i.e. the live stream of all current online mentions. In the past, these were requested by almost every customer. However, our experience shows that these streams often look rather sad. The promoter posts diligently, but the participants have no interest in it. Gamification features, i.e. the integration of typical game elements such as experience points, high scores, progress bars, rankings, virtual goods or awards to increase motivation, also often sound very interesting for organizers. I find them rather counterproductive. During the event, the audience should have fun and not hang around their smartphones all the time. One of the few advantages of the printed programme booklet is that you put it away after searching for information. In an app, you can spend several minutes clicking back and forth without noticing how much time is passing by.
What is your perfect app for live music?
The perfect live event app contains all information that might be interesting for me as a participant.
This information is always up to date.
They are quick and easy to find and using the app is fun.
I have the possibility to ask questions.
With the app, I can directly buy my drinks at the bar.
It also serves as a ticket for the event.
Via the app, the promoter accompanies me before, during and after the event, makes me want more and provides me with a great event experience?
When constructing the app is finished: how complex is the support for the promoter? Do I need a team?
Usually, the creation of the app is the most time-consuming. But with LineUpr it's actually a snap and done in a few hours. Once you've done a good job and everything's ready, supervision is child's play. This is usually done by one person in the team, usually from marketing, who takes care of it in parallel to other communication instruments.
At what size of a live event do you recommend an own app?
I would say roughly starting from 500 participants and from 5 artists. But in between, there are of course also some shades.
Why is it important to make your event communication by yourself?
As already mentioned, event communication is simply a decisive success factor. During my studies, I learned that you should never outsource the important areas of your own business to external partners. You simply lose control and become dependent. Communication gives promoters a direct line to potential participants, which is extremely valuable.